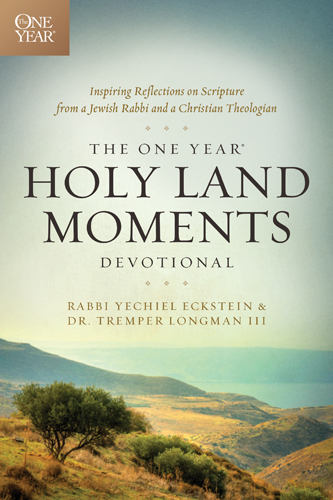 The One Year Holy Land Moments Devotional
is a 52 week devotional book written from a Jewish and Christian viewpoint, to help build bridges between Jewish people and Christians. Written by a Jewish rabbi and a Christian theologian, a topic is shared from a Jewish perspective and a Christian perspective is also given on the same topic 6 out of 7 days of each week. There is also a daily Biblical verse highlighted that applies to the devotional readings. On day 7 of each week a Sabbath Reflection page is included, reflecting on what new truth was learned from each major theme from the readings for each week, how truth has affected faith, how that truth will be applied to daily life, a key verse for the week, and other reflections. A Scriptural and Topical Index is included in the back of the book to make it easy for readers to find devotionals that pertain to certain Biblical books and topics.
What I liked about the Jewish part of the devotionals in this book is how it showed how Jewish people interpret Scriptures differently than Christians in a lot of cases. I also liked when a new Hebrew word was introduced and translated into English so I could understand what it meant. The Christian part of the devotionals was helpful also. They were shorter and did a great job of promoting love for the Jewish people but also explained how they have let Jewish people down in some cases. The devotionals also did a great job of explaining different Jewish celebrations, both well-known and not so familiar to people who are not Jewish. The devotionals for Rosh Hashanah came for me on the day of Rosh Hashanah! I learned what the shofar blasts signify after I came from my congregation and heard the shofar blasts!
I hope to be able to read this book again and space it out over a longer amount of time. It helps readers to draw closer to God and there is a lot of important information in this book to help build bridges between Jewish people and Christians. Reflecting on the ways that Jewish people often share some of the same Biblical morals and truths and think differently than Christians will help many to appreciate their familiarities and differences.
I received a free copy of The One Year Holy Land Moments Devotional from Tyndale Publishing for this review. I was not required to write a positive review. The opinions I have expressed are my own.