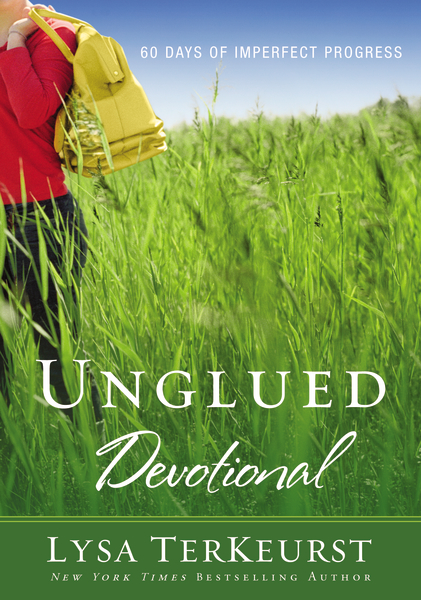 Unglued Devotional
takes readers through "60 days of imperfect progress". Each devotional lists a topic, a Scripture related to the topic, a thought for the day, a story/guidance about the topic, and a prayer. It shows the readers that they aren't perfect but can strive for being made whole / more whole with our Lord's help. Small enough to tuck into a bag, purse, or a briefcase it is easy for the readers to take the book wherever they go, no matter if they want to pull it out during a break at lunch, during a flight, or whenever they have a moment on the go.
These devotionals were great for me to use when I needed to grab a few minutes of inspiration, often before I started my day. Oftentimes I would read more than one devotional at a time per sitting. I often prayed the prayers in conjunction with other things I needed/wanted to pray about. I liked how Biblical examples and also examples in the author's life were used throughout the book. Even though the devotionals and prayers seemed short to me I believe that reading this devotional book encouraged me to spend more time with the Lord in deeper ways.
I received this book free from Zondervan for this review. I was not required to write a positive review. The opinions I have expressed are my own.