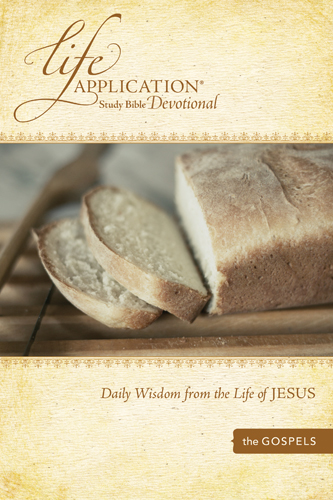 The
Life Application Study Bible Devotional: Daily Wisdom from the Life of Jesus
is an informed devotion book; it offers a read-hear-think-feel-and-do approach. It is divided up into 52 weeks of topics about Jesus' life. Topics include Jesus' healings, teachings, prayers, crucifixion, resurrection, etc. Each topic has six readings included (five weekday studies and one weekend study). Each subtopic includes sections titled "Reading the Word" which lists one or more Bible verses related to the subtopics, "Setting the Scene" which explains the Bible verses listed, "Talking to God" which gives recommendations about what to talk to God about relating to the subtopics, and "Getting Personal" which asks the reader reflective questions.
In the
Life Application Study Bible Devotional
many of Jesus' parables are explained in deeper ways than I have seen before. I looked forward to pulling this devotion book out many times because it connected me to the Scriptures and to God and made my days better because of that. I had to pray for God to open up the Scriptures after I started reading it because they weren't opened to me at first, which I believe any person should do before they read any Biblical devotionals, commentaries, or studies. I lost count of the amount of times that I felt like a light bulb came on over my head because of a new insight that had been revealed to me.
I recommend this book to people who want to go further into the Biblical Word by taking a step up from reading a shorter daily devotional to more informed devotions.
Disclosure of Material Connection: I received a complimentary copy of this book from Tyndale Publishing as part of their Blogger Review Program. I was not required to write a positive review. The opinions I have expressed are my own.